Nothing left to lose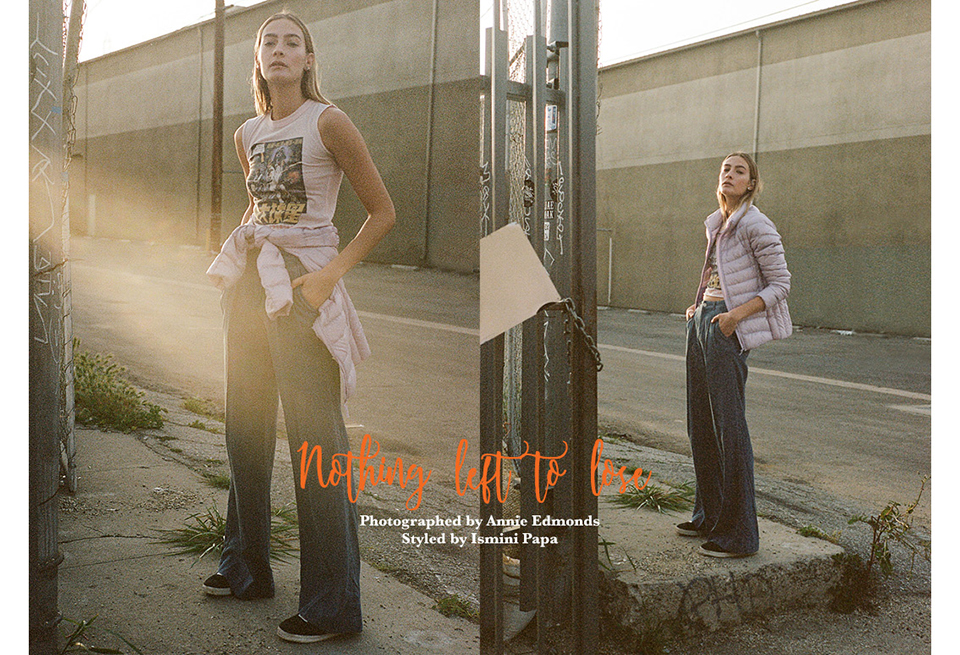 Top by Junk Food. Jacket by Uniqlo. Oversized denim pants by Michael Kors. Shoes by Adidas.
Tank top by & Other Stories. Vintage denim shirt stylist own. Jeans by Sandro. Boots by Doc Martens.
Vintage denim overalls by Lee. Top and socks by H&M. Sandals by Vince.
Vintage polo by Calvin Klein. Jeans by Levi's. Shoes by Adidas.Socks by Calzedonia. Vintage belt & coat stylist own.
Cropped top by Top Shop Sweater by H&M. Jeans by One Teaspoon. Boots by Doc Martens. Belt stylists' own. Purse by Bimba Y Lola.
Left: Turtle neck by Rachel Zoe. Denim coat by Maurie & Eve. Track pants by Adidas. Sandals by Vince. Socks by H&M
Right:  Turtle neck by Rachel Zoe. Denim coat is vintage stylist's own. Track pants by Sandro. Sandals by Vince. Socks by H&M
Sweater and jeans by Mother. Bustier top by Zara. Shoes by Adidas. Socks by H&M
Photographer: Annie Edmonds
Hair and Makeup: Julie Figueroa
Model & Stylist: Ismini Papa at Next